La base de una buena estrategia de marketing es el análisis.
The basis of a good marketing strategy is analysis. We need to analyze the environment, the market, customers, competition and ourselves, before setting any goals and taking action. In addition, information collection processes continue to be used at all levels.
At DonQuijotech we carry out your market study estimating its size, the economic and legal factors that influence your business, we examine the competition and clients and identify the new trends in the sector. We also analyze in depth the internal factors of your company and manage tools so that you can maintain strengths and correct weaknesses.
The first part of a correct market analysis is to analyze the macro environment. The most used in a Marketing Plan is the PESTEL analysis. Its name comes from the acronyms Political, Economic, Social, Technological, Ecological and Legal. This includes the factors of these areas that influence our business and to what extent they do so.
This is an example of PESTEL about the natural cosmetics company YVES ROCHER.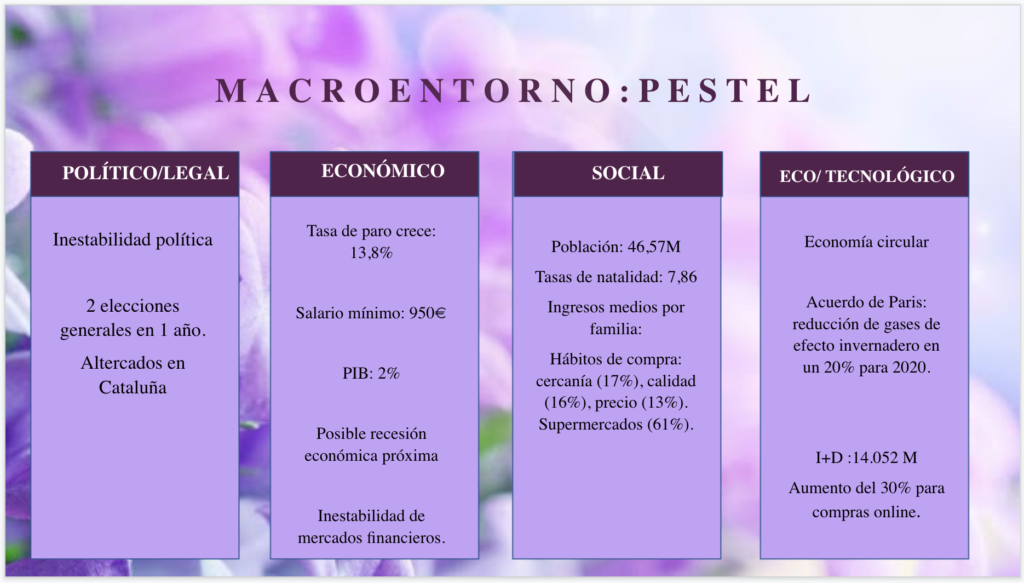 Also, it is important to know the size of our market. How many consumers does it have, if it is a sector that is on the rise, its global turnover, market share of our competitors as well as what we can achieve.
Here you can see the example of these data from the YVES ROCHER company in the perfumery and cosmetics sector.
At DonQuijotech, we also take care of analyzing direct and indirect competition, we carry out the strategic model of Porter's 5 forces to finally determine the attractiveness of the sector.
Finally, we carry out the DAFO or FODA analysis, the segmentation and positioning of your company, how it closes the analytical part.
Here you can see some examples of the music streaming company Spotify and PROZIS, a food supplement company.